What does the Italian Horn symbolize? Cornicello Meaning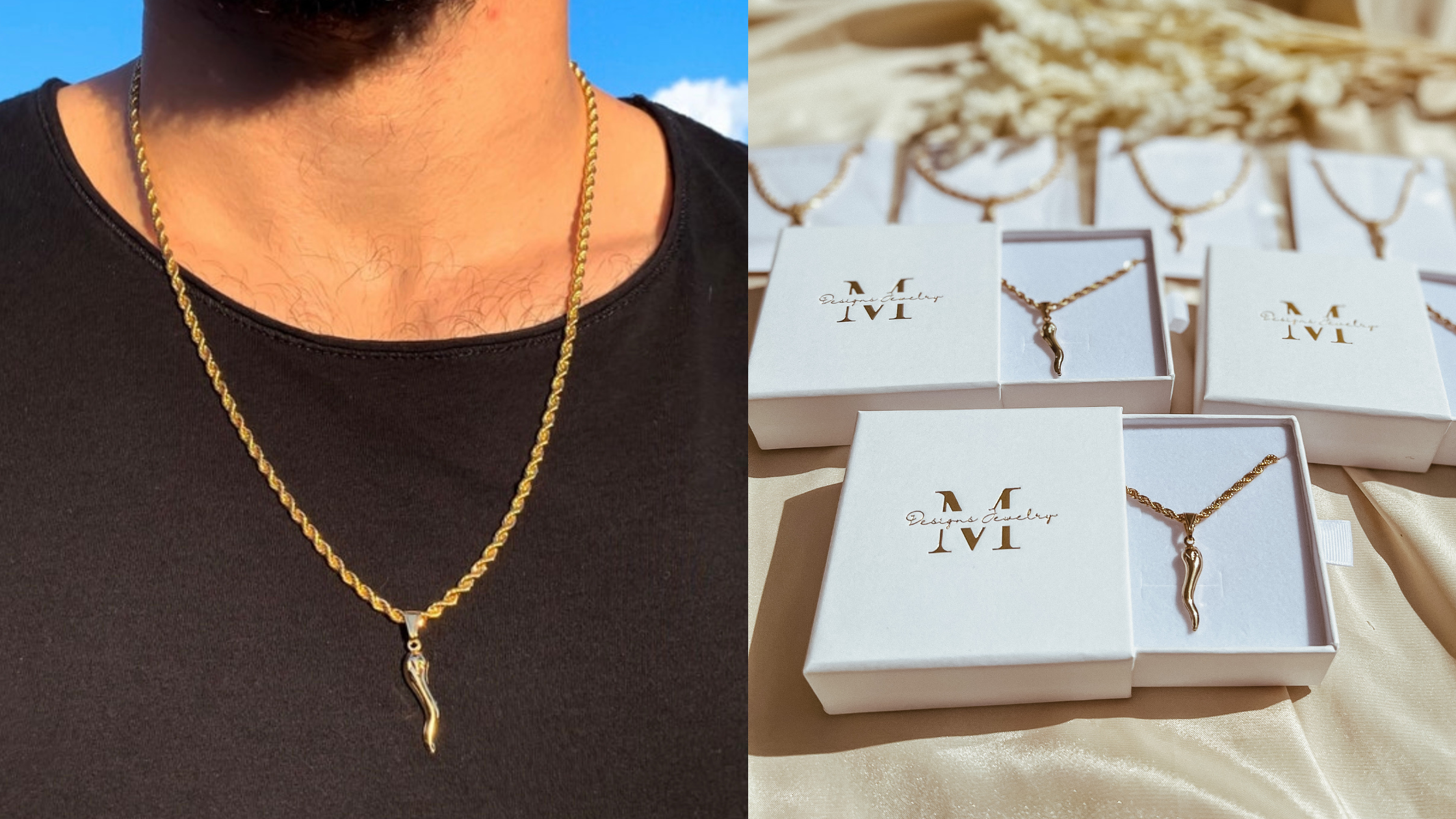 Brief History of the Italian Horn
The Italian Horn also known as "Cornicello," "Cornetto" (Italian for little horn) or "Corno" (Italian for horn) dates all the way back to ancient times to the Neolithic period, when it was conventional to hang a horn shaped item on the exterior of homes with the mission of guaranteeing fertility and well-being. The Italian horn can also be seen reflected in some Greek & Roman Mythology. Essentially the Italian horn is a Talisman or Amulet worn to protect against the evil eye, also known as Malocchio in Italian. 
 

The evil eye originated in Greece & is widely known across the world as a malevolent stare that someone gives you that is believed to be bad luck. This stare could be from someone who is envious of you or that generally does not wish well upon you & therefore, evil eye jewelry is also used to protect oneself against these stares & bad energy overall. This practice originates from Italian culture where they tend to have superstitious beliefs & therefore buy charms for their loved ones to protect them from evil with the most popular one being the Italian horn. It is not uncommon to see Italians make a horn sign with their hands to ward off the evil eye even when someone gives them a compliment or wishes them well. Is it strongly believed to provide good fortune especially to those who wear it.  
 Italian Horn worn as Jewelry
A Cornicello is a twisted horn shape that is usually made of gold, silver, terracotta, plastic, or red coral. The Italian horn strongly resembles a chili pepper in its overall look & structure but especially the horns made of red coral. The coral of which it is often made is seen as sacred to Venus, the goddess of love who represents fertility, sex, and prosperity. The ones made of Silver are known to be sacred to Luna, goddess of the moon. At first, the horn had the shape of a crescent moon to represent a pagan Moon Goddess. Over time it was then associated with a bulls horn & was believed to protect those who wore it while also providing strength & wealth. This popular amulet is often worn by Italian men in Southern Italy as well as descendants of Italian immigrants in other countries, and of course women wear it as well! It has become such a popular symbol that men from all over are being gifted this Italian horn necklace to be protected from the evil eye & to attract good fortune. It is a great gift option for a beloved man in your life whether its your Husband, Boyfriend, Fiancé, Son or Grandson. The Neapolitan tradition has it that the Curnicello must be handmade or handcrafted & above all, must be given as a gift. 
Our Italian horn necklaces are one of our best sellers that our customers purchase as gifts to their loved ones & can be worn daily for the upmost protection. 
Our Italian horn necklaces will be packaged in these beautiful gift jewelry boxes that come with a satin travel pouch & can be stored in forever. If you want to follow the Italian tradition, be sure to gift this to a loved one so they can experience the "Corno portofortuna" (horn that brings luck.)
A unique & meaningful gift for your loved ones this Holiday season awaits!